Life in a Memory Care Center: Myths and Facts
The idea of putting a loved one in a Long-Term Care Facility, especially one specialized in Alzheimer's and Dementia care, can be a daunting experience. You probably have heard many things from many different sources, some of which may be scary and overwhelming.
At Cedar Hill's Judith Brogren Memory Care Center, located on the ground level of the newly-renovated Village at Cedar Hill, we strive to create a positive, loving, person-centered place of care, where the specific needs of seniors with memory issues such as Alzheimer's disease are met with compassion.
Here are a few misconceptions that people may feel about putting their senior in a memory care facility, as well as the facts, including Cedar Hill's unique way of caring for these seniors with a positive, loving and dignified approach.
Myth #1: My loved one will spend his or her day isolated in his or her room
At Cedar Hill's Judith Brogren Memory Care Center, there is always something going on. From visits from furry friends to excursions to the local ice cream shop, there is an activity to entertain even the most discerning of tastes.
Our Activities Staff is available seven days a week and provides a wide variety of fun and stimulating activities at any time of the day. Residents can create beautiful pieces of artwork, many of which adorn our walls. Animal lovers will enjoy spending time with our resident cat, Otis, or maybe even cuddle with one of our lifelike robotic cats.
More introverted residents are free to use our spacious lounge area to watch an episode of "I Love Lucy" or maybe catch up on the local news. We also have books, puzzles, and games that anyone can enjoy.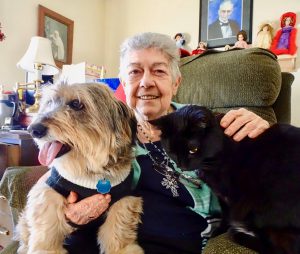 Myth #2: My Loved One Won't Be Able to Keep To Their Own Schedule
Many people worry that putting their loved one in a long-term-care facility will cause them to "lose their identity". Here at Cedar Hill, we create a plan of care to
meet the specific needs of each resident. Early birds can come out and enjoy unlimited coffee and donuts in the dining room, and night owls can enjoy a late-
night movie or a game of cards with the staff. Upon admission, each resident and their families will fill out a sheet letting staff know about their unique needs, likes and dislikes. Everything, from dinner choices to when they want to take their shower or bath, is customized to fit the needs of each resident. Shadowboxes adorn the front door of each room, and residents and their families are invited to fill them with photographs and other memorabilia, in order to make their loved ones' space truly their own.
Myth #3: The Staff Will Not Really Care About My Loved One
At Cedar Hill, all our staff in the Judith Brogren Memory Care Center are specially trained in dementia care. Many hold their CDP, which stands for "Certified Dementia Practitioner". Our Resident Assistants are more than just caregivers; they are advocates, confidantes, and best friends. They not only provide care, but eat meals with, and participate in activities with the residents. The small resident-to-caregiver ratio allows for one-on-one time and the formation of close-knit bonds. Family members will get to know each staff member by name and can always look forward to a smile and an update on their loved one when coming through our doors.
Myth #4: My Loved One Won't Be Able to Celebrate the Holidays With Us Anymore
At Cedar Hill, we strive to create memorable holiday moments for the residents and their families, while keeping the unique needs of dementia and Alzheimer's in mind. This year at Halloween, our residents enjoyed 'trick or treating' around the halls as costumed staff doled out tasty treats. Families were invited to help decorate Christmas Cookies, and residents helped to create ornaments for our beautiful Holiday tree. There is an Annual Holiday Open House throughout the campus every December with food, music, fun, and a special visit from Santa, and families are invited to dine with their loved ones anytime.
Families of all sizes are invited to stop in to create some holiday magic with their loved ones in Memory Care!
As you can see, life at Cedar Hill's Judith Brogren Memory Care Center is far from what one might expect. Call us at (866) 296-3716 to schedule a tour and see for yourself our unique, person-centered approach to dementia care.
Liz Smith is a Licensed Nursing Assistant and Resident Assistant and the Judith Brogren Memory Care Center at Cedar Hill. Liz's favorite part of working in Memory Care is the love she receives from her residents every day.