1999 – The Assisted Living Dream Becomes a Reality


By September of 1999, Mary Louise and Judith obtained their second HUD-insured loan, enabling them to begin work on the independent and assisted living area. The plans that were developed by Paul Biebel and Paul Carroll in 1994 were used to construct The Village in a seven month period. The builders removed the barn, swimming pool, and airplane hangar that were purchased with the property and, in their place, built The Village, which comprised 20 independent and assisted living apartments, a central dining area and café, living rooms, fireplaces, and multiple patios.
"This was our original plan – to have a multi-level community with various options for health care services. It was central to our original mission. With The Village, we finally had the community we had dreamed about in the beginning. We had our community, and it was successful." –Mary Louise Sayles
Within six months, The Village was running at full capacity, providing momentum and financial stability for the women and also representing the actualization of their original dream—to provide a continuum of care that supports seniors through the health and life transitions of the elder years. By fully realizing the continuing care model, Cedar Hill was able to minimize the stress and health issues caused by change. Rather than moving from one facility to another, their residents could age in place, with the support of a stable community and staff. Cedar Hill was also able to promote more joyful living by providing all of the services and supports residents needed on one campus. It was truly a time of celebration for the two women as they experienced the positive effects of their achievements every day.

2005 to 2008 – A Time of Transition for Cedar Hill
By 2005, Judith was ready to retire. She moved to North Carolina and remained close friends with Mary Louise, who continued to run Cedar Hill with the help of hired administrators. Mary Louise was well prepared for Judith's retirement; however, over the years, Mary Louise had kept her three daughters up-to-date about the continuing care community with the hope that she could convince one of them to take over the business someday.
Patricia Horn, her middle daughter, had begun to show a strong interest in her mother's vision. A resident of Philadelphia, Patricia wrote for the Philadelphia Inquirer. Since 2000, newspapers had been flailing and had long been offering buyout options to their staff. Patricia visited Cedar Hill often, growing more and more interested in her mother's work as she wrestled with the decision to leave her career as a journalist.
In 2008, Patricia decided it was time to make a career change. She accepted the buyout option and moved up to Windsor, Vermont. Within the year, she had become a licensed nursing home administrator, ready to help her mother build on the dreams Mary Louise had begun with Judith.
---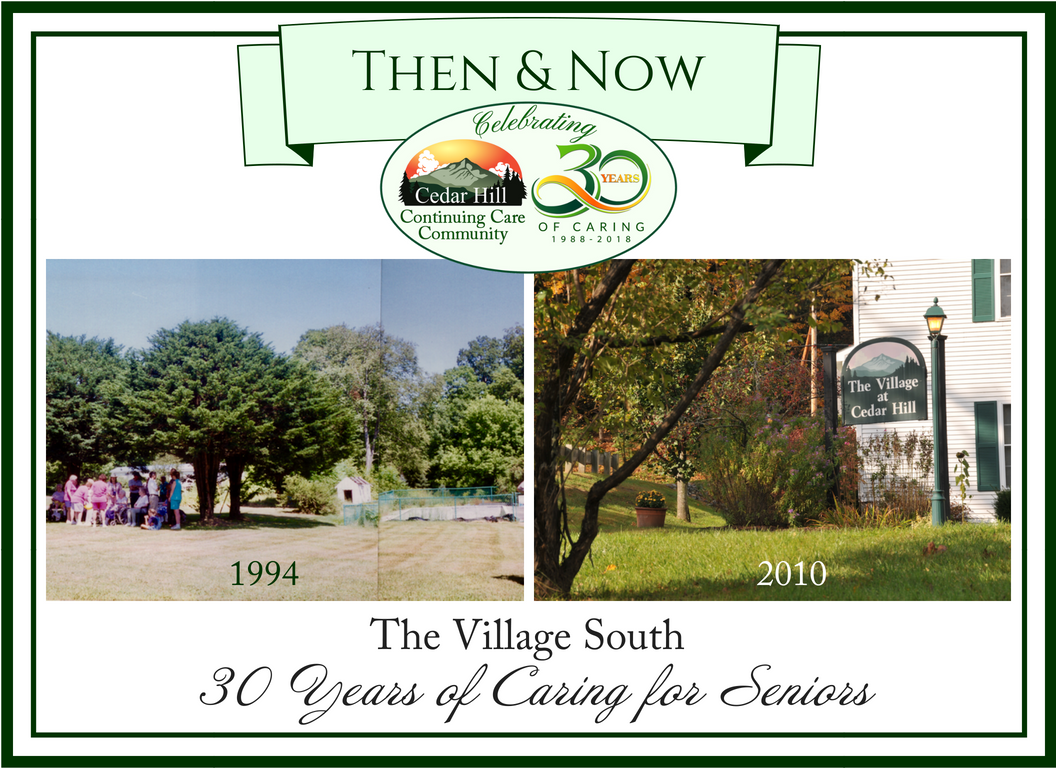 Large yard with in-ground pool is the future site of the Village, left.
One of several old structures removed for the Village construction was the old barn and silo, left. Note the large Cedar that stood near the barnyard is the same tree being removed in 2012.
View of Village construction in 1994 from the top window of Victorian House, left. Same view in 2018, right.