by Liz Smith
On the summer solstice, the residents and staff of the Judith Brogren Memory Care Center at Cedar Hill Continuing Care Community welcomed the beginning of summer by celebrating The Longest Day. 

The Longest Day is an annual event headed by the Alzheimer's Association that encourages people across the country to participate in an activity they love in honor of a loved one who may have or had Alzheimer's disease. Because I spend a majority of my time with my friends in Memory Care, I wanted to participate in this event to honor each one of them. I was stuck on what activity I could do that would represent all that I love. Then, it dawned on me. Why not let the residents decide?
Love is a forever presence in Memory Care; from the artwork decorating the walls to the smiles, hugs and laughter shared between residents and staff. Everyone who works here has made special bonds with the residents. Family members become our extended families. Each one of us has one or two residents that we will never forget. 
The unit was a sea of purple as many residents and staff members sported the color used to represent Alzheimer's Awareness. I began by asking each resident about activities that they love to do. This lead to many interesting conversations, as I watched them reminisce on the happenings of their past as well as their present. The answers were just as unique as the residents themselves; thoughtful, quirky and some quite unexpected.
Staff members (human and feline) were also invited to share what they love to do. Aside from the obvious (helping others), I was impressed by our staff's wide range of answers. And both residents and staff appreciated the masks, crowns and paper moustaches given to me by the Alzheimer's Association. #ENDALZ  #TLD
Love- A perfect start to our summer!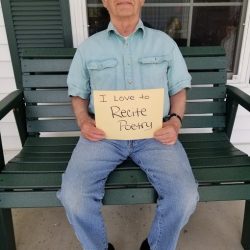 – Liz Smith is a Licensed Nursing Assistant and Resident Assistant in the Judith Brogren Memory Care Center at Cedar Hill. Liz's favorite part of working in Memory Care is the love she receives from her residents every day.